See also Handbook of Texas entry.
Governor of Texas, 1863-1865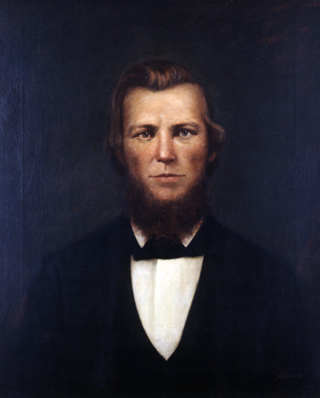 In his inaugural address as governor, Murrah likened the management of the state to that of a machine: "For the machinery of government of all machinery is most intricate and most difficulty of adjusment and management; the science of government, of all sciences, has claimed from mankind the greatest share of their attention, and yet has secured form them the least uniformity of opinion as to its true mission, and as to the principles which should be embraced in a perfect system."1 He also went on to call for the expansion of manufacturing and industry in the state.2
As governor, Murrah was frequently involved in debates with Confederate military officers, as explained by Ralph A. Wooster:
As governor, Murrah became involved in a series of controversies with Gen. John B. Magruder, the Confederate military commander of the Texas district, and his superior, Gen. Edmund Kirby Smith, commander of the Trans-Mississippi Department. The most serious of these disagreements was over conscription of troops for the army. Murrah argued that individuals enrolled in the state militia, particularly in frontier counties, were not subject to conscription by Confederate authorities. Magruder contended that Confederate laws had superiority over state legislation and attempted to enroll all eligible men in Confederate service. Murrah criticized Magruder's high-handed tactics and insisted that Confederate authorities give ground. When Gen. Nathaniel Banks moved up the Red River in the spring of 1864, however, Murrah reluctantly yielded to Confederate requests for troops. He continued to maintain that the state had a special claim over potential recruits in frontier counties. Governor Murrah and Confederate authorities clashed on other issues. In an effort to obtain money and badly needed supplies for his department, Smith had established a cotton bureau for purchasing and selling cotton. Texas farmers and planters, who had no desire to exchange their cotton for depreciating Confederate currency, appealed to Murrah for relief. Murrah established a state plan for purchasing cotton with Texas land warrants. This action touched off a round of correspondence between Texas and Confederate officials, with Murrah again reluctantly giving in to Confederate pressures. On July 19, 1864, he appealed to Texans to deliver their cotton to the army's agents.
As wooster1985 explains, Confederate Slave Impressment was also a source of conflict between the governor and Magruder, who tried in December 1863 to impress one fourth of all the male slaves in Texas. Murrah responded with a lengthy letter urging Magruder to limit the impressment for the sake of the state's agricultural interests.3
Murrah also presided over the purchasing of cotton by the Texas Loan Agency, which (after its institution) took over from the Texas Military Board the responsibilities of buying cotton.
In keeping with the concept of patronalism discussed in downs2011, Murrah also received numerous appeals from citizens to deal with price gouging or local matters. For example, citizens of Bosque County complained in November 1863 that a local quartermaster was raising prices in order to do favors for people who had invested in wagons and teams.4
Overview of Records
In July 2013, I examined Murrah's Papers at the Texas State Library and Archives Commission. What follows is my general notes of that visit, though citations to specific sources are scattered throughout this wiki and will slowly appear on my Omeka site.
Note: The Murrah collection at TSLAC was reorganized in 2014, and all boxes and folders were renumbered. Any notes I took in 2013 referring to boxes 301-XX refer to the old finding aid. The numbering system on the new finding aid has boxes beginning 2014/022-X, along with folder-level descriptions of the contents.
The Murrah boxes contain (in approximate order of frequency) recommendation letters and requests for specific military appointments (especially for Brigadier Generals of the state troops); requests for details and furloughs (sometimes in order to "manage" or oversee "negroes" at home; communications from officers in the Trans-Mississippi Department, and conflicts about slave and cotton impressment; information about cotton-buying operations across the Rio Grande at Eagle Pass;5 letters about frontier defense and Comanche relations;6 etc.
Some railroad business is also discussed. One document in Box 301-44, Folder 2, mentions a loan of $148,000 in U.S. Bonds to the Southern Pacific Railroad Company in April 1862 "in part payment of their bond for $150,000." Other letters deal with the controversial order by John Bankhead Magruder to destroy the San Antonio and Mexican Gulf Railroad.
Murrah also deals in 1864 with reports from the Confederate military officers at department headquarters that local sheriffs were not reporting runaway slaves captured from Confederate service and were refusing to return them to military officers.7 One such letter, from Horace Conn (sp?) to Murrah, concerned a case of "six negro fellows" who had been in the employ of the Labor Bureau but had escaped and were captured by the sheriff of Harris County, who refused to give them up until fees were paid in specie—making it possible the men could be held indefinitely or perhaps eventually sold.8
A letter from Captain Walsh, December 1864, discusses the rates at which "negro teamsters" are to be hired. While they have been hired at the rate of $100 per month in treasury warrants, the appreciation in value of those warrants leads Walsh to suggest making payments of $15 in specie, payable in state warrants at their market value.9
Links
Murrah's 1863 inaugural address, stressing importance of native industry and manufacturing in the state.10
Murrah's May 1864 and October 1864 addresses to the state legislature, discussing currency, cotton purchasing, state penitentiary, state troops, demoralization, etc.
On state cotton plan, see letters to W. J. Hutchins, John Williams, and E. B. Nichols in Omeka