Robert Campbell Martin, Jr. (b. 1839, d. 1916), was the son of Robert Campbell Martin, Sr.. He married Maggie Martin on April 24, 1861 at Melrose Plantation.1 Sometimes known as "Bob" Martin.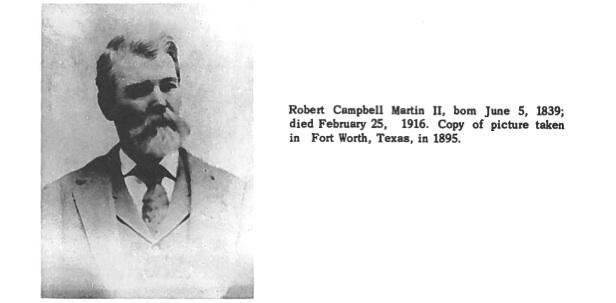 According to martin1965, after the war began, he joined the 26th Louisiana Infantry and participated in the siege of Vicksburg while Maggie remained mostly in Mansfield with their son Robert (Rob) Martin III, b. February 3, 1862. He was "captured and paroled at Vicksburg," according to lathrop1958, 309, and later worked in the Ordnance Department in Shreveport and Jefferson. After living in Mansfield briefly after the War, he returned to Assumption Parish, managing the Albermarle plantation for a few years after his father's death.
Early Marriage and at Vicksburg
Between January 1, 1863, and March 1863, Martin wrote frequently to Maggie Martin from his camp near Vicksburg; the letters are in the Martin-Pugh Papers at Nicholls State University. Occasionally these letters mentioned what appear to be the names of enslaved people and said "howdy to the svts." At least one of these enslaved men was named "Bob," another appears to have been Trak. (See Item 314 in Martin-Pugh Papers.) In other letters he advises Maggie not to overwork herself caring for their baby, advising hr for example to "have a servant to get up at night and never do it yourself without covering yourself well" (Item 316). See also Martin slaves.
After Vicksburg, he went to Marshall Texas on a brief twenty-day leave of absence with Maggie, arriving there in October 1863.2 He was apparently not "exchanged" (unclear what this meant) until July 1864? With periodic visits to Texas and Louisiana in between.3
After the war he appears to have considered taking up law and settling in Mansfield, and wrote to Maggie about his impatience with "the freedmen": "Should they become impudent at any time, have them punished or send them away. Do not permit them to insult you. I am heartily tired of them & am determined to have as little to do with them as possible." In the same letter he remakred that "as to the Negroes their gratitude is not very lasting."4
Postwar letters suggest that he lived in Napoleonville for a time, and still later may have been involved in coal production.5