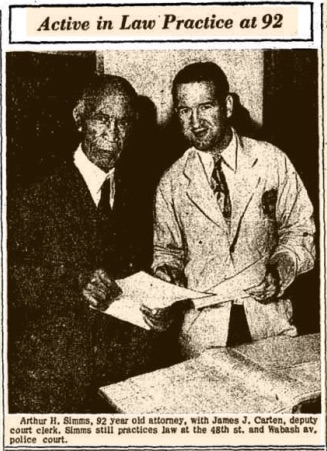 Arthur H. Simms (b. ~1856, d. 1951), a lawyer who graduated from Union College of Law with an LL. B. degree in 1889, was the son of Henrietta Wood.1 He was interviewed in 1948 by the Chicago Tribune.
The 1948 Tribune article indicates that Arthur H. Simms moved to Chicago around 1873, and worked at first as a waiter at the Gardner House hotel, where he served prominent Chicagoans such as Joseph Medill and also met George Pullman, who (according to the Tribune) hired him as a porter.2 In the 1880 census, he appears as a boarder in the household of a Charles Ross together with his mother, living at 133 Fourth Avenue. He is listed as a "Porter for RR."
After returning briefly to Cincinnati in 1883 to marry his wife, Simms settled in Washington Park in Chicago and soon thereafter began his career as a lawyer.
He died on October 12, 1951, according to this record, which also lists the informant as Joseph Lano and his birthdate as January 8, 1856 in Mississippi. His mother here is listed as "Hattie Woods," and no father is listed.
Early Life
With the exception of his interview in the Tribune, there are few sources about Simms's early life. Evidence concerning his birth include:
I still haven't figured out the identity of Simms's father, who would have had to have been in Frankfort or Lexington in 1855. There is a Nathaniel Simms listed as a "mulatto" and an Ellis Simms listed as "black" who lived in Franklin County in 1850. See also the 1860 and 1870 entries for Nathaniel Simms/Sims. The two men appear to have been barbers in Frankfort around the time Wood would have lived there. On the other hand, this page on insurance policies seems to list Nat Sims as a slave belonging to William Hunt (perhaps this one?) That insurance policy probably would have been taken out between 1846 and 1848.
The 1900 census gives his father's birthplace as Maryland, while the 1910 census and 1920 census give his father's birthplace as Kentucky. The 1930 census says it was Mississippi.
Washington Park
Simms eventually settled in the Washington Park neighborhood of Chicago. At the time he arrived, the city was rebounding from the Great Chicago Fire of 1871 and Washington Park was a booming, ethnically diverse, and relatively affluent neighborhood just west of the present location of University of Chicago. But after the race riots of 1919, which centered around the nearby Union Stock Yards and stretched into Washington Park, the community experienced a rapid transition into a predominantly black, impoverished area of the city.
The University of Chicago Library contains a good collection of maps that show the area in great detail.
5759 South State
On July 24, 1885, Simms purchased a house lot from Lester Patterson for $1,150 at the address of 5759 S. State Street. (At that time, the property was still a part of Hyde Park Township until it was annexed to Chicago in 1889.)5
Three years later, in August and September 1888, he gave trust deeds on the property to the Mechanics and Traders Savings Loan and Building Association in order to borrow $800. (Both loans were repaid by August 1890, releasing Simms from the trust.) He then purchased more of an adjacent lot in March 1891 for a total purchase price of $8575, though he took on a note for $2,500 from Snow and Dickinson, a real estate firm that gave "loans made at lowest market rates on Chicago Real Estate." He repaid that loan one year later, but in 1896 took out a mortgage for $5000 from the Title Guarantee and Trust Company. He eventually sold the property in 1909 for $6,500, which could mean that he lost money on the deal.6
In the 1900 census, Simms' family appears to live in the same house as William T. Murphy (a black cafe laborer born in Kentucky in 1864) and his wife, at 5759 State Street. The census lists Simms as the owner of the home, which he has mortgaged. But by the 1910 census he is shown as a renter at the same address, which is surrounded by "White" households. He may have remained living at the house until December of 1910, when he was released from his debt to the title company—or perhaps even longer.7
5828 Lafayette Street
In 1916, Simms and his wife bought a lot on Lafeyette Street adjacent to a lot purchased a month earlier by his daughter Neata and her husband Malachi.8
In the 1920 census, Simms is listed as the owner of a mortage at a new address: 5828 Lafayette St., with his daughter's family (Malachi and Neta Adkins, with their four children) and a couple named Frank and Helen Smith as renters. Simms appears at the same address in the 1919 edition of Black's Blue Book, a professional and business directory.9
In 1942, he made an agreement to convey the property to Clifford P. Adkins and his wife Verdell for $4000 paid in installments—a conveyance completed in 1950. By that time, Simms and Malachi Adkins were both living elsewhere, on Wabash.
4917 So. Dearborn Street
He is mentioned in a 1918 legal directory with a practice at the same address as the one where Henrietta Wood died, according to her 1912 death record: 4917 So. Dearborn Street.
5712 Wabash Ave.
The Tribune confirms Simms was living in 1948 with his son-in-law "Malachy Adkins" at 5712 Wabash Ave., still in the Washington Park area. Simms shows up in Adkins' household at that address on the census for 1930 and 1940, and Simms's death certificate confirms the Wabash address as his place of death.10
Malachi and Neata Adkins bought the Wabash house in 1921 for approximately $1,850.11. In 1930, Adkins still owned the home (supposedly worth $18,000 according to the census), which by then was surrounded by households listed in the census as "Black," and he had several renters. But by 1940, the listed value of the home has plummeted to perhaps a tenth of the 1930 value, though as a postal clerk, Adkins's reported salary of $2100 was one of the highest in the neighborhood.
Malachi transferred the property to Winston Adkins for $363.74 ("being a balance in full of all debts & claims against said property") in 1949.12
Baptist Churches
The Tribune article says he was a member of the Berean Baptist Church, which was founded in 1900 and still exists today. In 1913, the church was located at 49th and Dearborn. A notice in the Chicago Broad Ax from 1904 reports the attendance of "Arthur Holmes Simms" at a benefit social for the "Provident Baptist Church."13
The long-time minister of Berean was William S. Braddan (possibly related to Zedrick Braden who informed Northwestern of Simms's death?), who wrote a memoir of his World War I experiences, titled Under Fire with the 370th Infantry. That memoir mentions Neata Adkins (Simms's daughter) and includes a picture of her husband.
Chicago Addresses
These entries for Arthur H. Simms were found in Chicago City Directories.14
| Year | Occupation | Addresses |
| --- | --- | --- |
| 1874 | Waiter | r. 190 3rd av. (Simms Arthur) |
| 1875 | Not found | |
| 1877 | Not found | |
| 1878 | Not found | |
| 1879 | Waiter | 54, 4th Ave. (Sims Arthur) |
| 1880 | Porter | 133 4th Ave. |
| 1881 | Waiter | 517 Dearborn |
| 1883 | Not found | |
| 1884 | Not found | |
| 1885 | Janitor | 119 Dearborn |
| 1885 | Porter | 2522 Dearborn |
| 1887 | Janitor | 5759 State |
| 1888 | Not found | |
| 1890 | Porter | 5759 State |
| 1891 | Asst. Clerk | Harrison st. police court, h. 5759 State |
| 1892 | Lawyer | 10, 127 Lasalle (business) |
| 1893 | Porter | 5759 State |
| 1894 | Porter | 5759 State |
| 1895 | Porter | 5759 State |
| 1898 | Lawyer | 5, 78 Dearborn (business) |
| 1899 | Lawyer | 5, 78 Dearborn h 5759 State |
| 1900 | Lawyer | 5, 78 Dearborn h 5759 State |
| 1901 | Lawyer | 5, 78 Dearborn (business) |
| 1902 | Lawyer | 303, 80 Dearborn (business) |
| 1903 | Lawyer | 5759 State |
| 1904 | Lawyer | 5759 State |
| 1905 | Lawyer | 5759 State |
| 1906 | Lawyer | 5759 State |
| 1907 | Lawyer | 5759 State |
| 1909 | Lawyer | 9, 79 Clark (business) |
| 1911 | Not found | Missing from Lawyers business page |
| 1912 | Attorney | 4917 S Dearborn (AHS Jr. also listed) |
| 1914 | Lawyer | 4917 S Dearborn (business) |
| 1915 | Not found | AHS Jr. a PO Carrier, 4852 S Dearborn |
| 1916 | Lawyer | 4917 S Dearborn (business) |
| 1923 | Lawyer | 5712 S Wabash Ave. |
The 5859 State Street address is also confirmed by Simms's appearance on the 1892 voter registration rolls for Chicago. The rolls give his birthplace as Mississippi and list him as a resident of the precinct (25th, inside the 34th ward) for the past 6 years (and 19 years for the city and county).15
Legal Career
In 1889, Simms graduated from Northwestern's Union College of Law with an LL. B. degree, and he appears in the University's catalog and commencement program. He appears in a picture of the graduating class of 1889.16
After graduation, according to the Tribune article, he worked as a clerk in the Harrison Street Police Court for a couple of years before entering into private practice. The Chicago City Council's Journal of Proceedings for 1891-1892 confirms this, though it calls the court the "First District Police Court".17
He is listed as a member of the D. A. Straker Bar Association in a brief notice from 1909.18 And he is later listed as a member of the Cook County Bar Association.19
In this early part of his career, Simms also appears to have been a real estate broker. Ads placed in the Indianapolis Freeman (which had a Chicago office on Dearborn Street) in 1891 and 1892 declared that "Chicago Investments made in Chicago Real Estate now will net an average of ten per cent. per annum" and invited readers to contact "Arthur H. Simms, room 10, 127 Lasalle street, Chicago, Ill." for information about plats and locations.20 A second, larger ad gave specific information about houses and lots, promising increases of "10 to 25 per cent. per annum" to investors in Chicago realty. This ad was placed by "Burrows & Simms, Lawyers," at the same La Salle St. address.21 Around the same time, Simms became secretary for the Empire Mercantile Association, incorporated in Illinois. According to an add in the Freeman,
The business of the association will be to operate a grocery and market house; a coal yard; from two to six lodging houses for the accommodation of colored visitors to the World's Fair; also a general purchasing agency. We will buy from colored producers any article that will sell in this market. We will purchase in this market any article from a hair pin to a steam engine, and ship to the account of the buyer. Colored people spend $3,500,000 annually. We want a part of their trade, and we want 100,000 subscribers to take from one to one hundred shares of stock.22
Simms also appears to have been associated with a similar organization called the Crusaders Mercantile Association. He is listed as the president in the 1905 Colored People's Blue Book and Business Directory, which gives the address of the organization as 3025 State Street.23 According to the Broad Ax, in February 1905 he delivered a talk about the group:
"Progress" was the subject of Lawyer Simms address before the St. Mark Literary last Sunday afternoon. He spoke very interestingly of the work of the Crusaders Mercantile Association. Dr. A. Wilberforce Williams delivered a very timely address on "Consumption." … Next Sunday p.m. the program will be a special Lincoln's Birthday and Freedman's Aid program.24
It's possible he is the "Mr. Simms" mentioned in another notice about a "Literary":
The Literary of St. John's A. M. E. Church was fairly attended last Tuesday evening, and a short program rendered. The most important part was the debate under the title of "Which had the hardest struggle, man or woman?" The debaters were Mrs. Louisa Williams and Mrs. Rev. Higgins on the affirmative and Mr. Sheridan and Mr. Simms on the negative. After the decision was rendered it was decided in favor of Messrs. Sheridan and Simms.25
St. Mark and St. John were only two of many literary societies in the city around this time.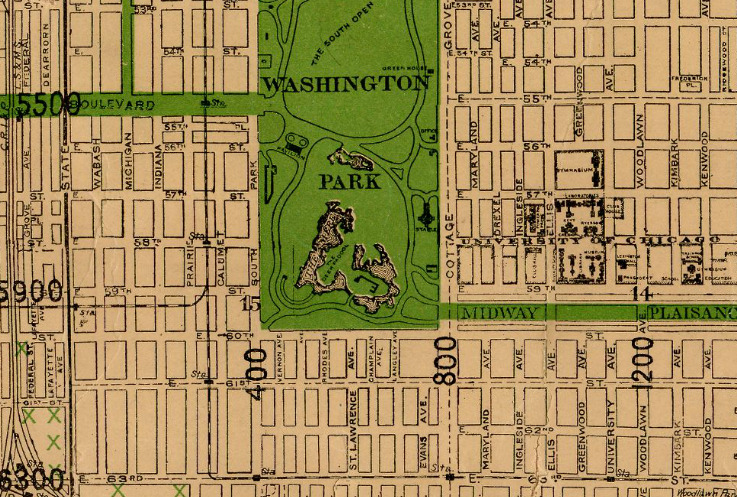 After the Chicago race riots of 1919, Simms was part of the defense team that won an acquittal for four African American defendants (including Emma Jackson) who were charged in the death of a white man named Harold Brignadello, who was part of a mob that surrounded their house. The jury deliberated for only an hour and twenty minutes before deciding that the defendants were innocent. Simms was joined in the case by co-counsels Robert E. Cantwell, a white lawyer, and James N. Simms.26 He later spoke about the trial at a meeting of the Peoples Movement Club at Unity Hall, giving what the Defender called an "eloquent address."27
Simms may also have been the "A. L. Simms" mentioned as a defense attorney in another riot case in which he helped win acquittals for Robert D. Hamilton and Raynard Marx.28 An "A. N. Simms" is also mentioned as the attorney in a case of petty theft in which two boys were placed on probation.29 Before and after such high-profile cases, the bulk of Simms's legal work concerned regular chancery suits such as divorce cases.30
He may also have appeared as attorney in an appellate Illinois case, The People vs. Arthur Meyers, that involved a charge against an "inmate of a house of prostitution."31 And he also was an attorney in the case of The People vs. J. F. Boyd, a theft and due process case, heard before the appellate court in 1912.32 For some of his other cases, see The National Corporation Reporter, vols. 50 and 53; and Chicago Defender issues for June 21, 1919; February 7, 1920; February 28, 1920.
He may have been the "A. N. Simms" who participated in a reception for Emmett J. Scott by the Urban League (though the typo could also be with the "A," and this could refer to the prominent attorney J. N. Simms).33
Simms appears to have been on a Selective Service Advisory Board for Ward 3 in Chicago during the 1940s.34
Upon Simms' death on October 12, 1951, Zedrick Braden (a 1925 graduate of Union College of Law) wrote the school to inform them of the passing, reporting that Simms was "the oldest living alumnus of the Law School." That quote came from an Alumni News report that also said Simms' funeral would be held at Berean Baptist, 53rd and Dearborn St., on October 18. A few months later, on January 14, 1952, University president J. Roscoe Miller wrote to Braden with condolences and informed him of plans to put "a book marked with a special bookplate bearing his name" in the law library.35 See also an article announcing his death in Jet magazine.
Genealogy
Simms married Caroline (or Carrie) Person of Alabama. They married in Hamilton County, Ohio, on June 21, 1883. She died in 1929 and was buried in Mt. Greenwood.
Simms and Person had four sons and a daughter, according to the Tribune article from 1948, but all had died by then. In the 1900 census, Person is already listed as the mother of four children, but only two are living.
One of the sons was Arthur H. Simms, Jr., born in April 1884.36. The Chicago Broad Ax contains a notice of a surprise party held for Simms Jr.'s twentieth birthday, hosted by Bessie A. Kirby and Ida Lee Setzer. In this notice his name is spelled out as "Arthur Holmes Simms, Jr."37 The same issue contains a notice that "Arthur Holmes Simms, Jr., has been confined to his residence at 3759 State street, with an attack of the La Gripp. He is now able to once more be around and about, but still shows the effects of his recent illness."
The daughter was Neata, or "Neatie" according to the 1910 census record in which Wood also appears.38
Arthur H. Simms, Jr., married Harriet Mae Cooke in Hamilton County, Ohio, on November 25, 1908.39 They had a son named Harry Evans Simms who died at age 17 in Cincinnati, Ohio.40 Harriet died in 1941, and her death certificate listed her as widowed. But a 1940 census record from South Carolina shows Arthur H. Simms Jr. as a divorced traveling salesman. See also his World War 1 and World War 2 draft registration cards, which suggest he was still living in 1942.
Neata Simms married Malachi C. Adkins, the son-in-law mentioned in the 1948 Tribune article as Malachy, in March 1912. Neata died in 1931 and was buried in Lincoln cemetery. Malachi's own death record puts his death at 1964, and his burial place as Burr Oak. Malachi was a postal employee.41 There is also a draft record for Malachi for World War II, with signature and more specifics about his postal service employment.
Arthur H. Simms had many grandchildren by Malachi and Neata Adkins:
---
Wood appeared in Arthur Simms' household in the 1900 census and the 1910 census, which also recorded his father's birthplace as Kentucky. And there is an "Arthur Simmons" in the household of Harvey Myers with Henrietta Wood in 1870.↩

According to an email dated January 26, 2016, from Helen Hanowsky at the Newberry Library, there is no reference to Simms in the following record groups of the Pullman Employee Records: 06/02/01 Vol. 4; 06/02/02 Box 10; 06/02/03 Box 16, 210, 216; 06/02/06 Vol. A & B.↩

Medical Certificate of Death no. 73178, State of Illinois, downloaded from Cook County Genealogy website.↩

His birthplace was also given here as Louisiana for some reason.↩

Cook County Tract Book 356-D, p. 358; also Document 6,44,592, Book 1603, Page 229.↩

Cook County Tract Book 356-D, p. 358; "Loans," Chicago Tribune, December 15, 1889, p. 30.↩

Cook County Tract Book 356-D, p. 358-359.↩

Cook County Record of Deeds, Tract Book 358-B, p. 404.↩

Black's also contains entries and ads for a lawyer named James N. Simms, who does not appear to be related and became a prominent black lawyer in Chicago, too, judging from mentions in the Defender. Both Simmses are listed at the address 80 Dearborn in the 1905 Colored People's Blue Book↩

Cause of death given as heart disease, and father's name "Unknown." See Medical Certificate of Death no. 73178, State of Illinois, downloaded from Cook County Genealogy website.↩

Cook County Recorder of Deeds, Tract Book 356-C, 133-134↩

Cook County Recorder of Deeds, Document 145,10,719, Book 44251, Page 528.↩

"Chips," Chicago Broad Ax, July 23, 1904, p. 4.↩

Found by performing a search for "Simms, Arthur" within Fold3's Chicago City Directories collection.↩

See Ancestry.com. Chicago, Illinois, Voter Registration, 1892 [database on-line], originally from Illinois State Archives microfilm.↩

Northwestern University Alumni News, v. 18 (Oct. 1938 to June 1939), 16-17, on HathiTrust. See also article mentioning him: "Admitted to Practice," Chicago Daily Inter Ocean, June 13, 1889, p. 3, available on America's Historical Newspapers.↩

See pp. liv, 118 in Journal of the Proceedings of the City Council of the City of Chicago for the Municipal Year, 1891 and 1892 (Chicago: John F. Higgins, 1892), available on HathiTrust. The city code explains how such appointments were made. Also see joens2012 on the Harrison Street court.↩

"Chicago Bureau of the Indianapolis Freeman," Indianapolis Freeman, August 28, 1909. The association is mentioned disparagingly by the Broad Ax on November 19, 1910.↩

"Georgia Jones Ellis Proves Efficient Chairman," Chicago Metropolitan Post, June 3, 1939, p. 5.↩

"Chicago Investments," Indianapolis Freeman, December 26, 1891.↩

"Chicago Real Estate," Indianapolis Freeman, April 23, 1892. Burrows could be the "Frederick M. Burrows" who graduated from Union College of Law in the same year as Simms.↩

"The Empire Mercantile Association," Indianapolis Freeman, April 30, 1892. See also the Chicago Tribune, December 10, 1891, p. 14, which lists the capital stock as $100,000 and the other incorporators: Maurice Baumann, J. E. Webb, A. H. Simms, J. W. Moore, P. O. Gray, S. McConnell, and G. W. Norvall.↩

See also the 1905 Directory of Directors, which lists other officers of the organization.↩

"St. Mark Literary, State and 47th Streets," Broad Ax, February 11, 1905.↩

"Englewood Notes," Broad Ax, April 22, 1905.↩

"Acquit Seven of Riot Murders," Chicago Defender, September 27, 1919. See also p. 665 of this appendix to the Commission on the riots, and p. 27 of the Commission's report.↩

"Attorney F. A. McDonnell Speaks at Movement," Chicago Defender, October 4, 1919.↩

See "In the Grip of the Law," Chicago Defender, February 7, 1920. The co-counsel is named as F. L. Barnett.↩

See "In the Grip of the Law," Chicago Defender, February 28, 1920.↩

See regular legal notices about cases in the Chicago Inter Ocean between October 1912 and February 1914.↩

See Reports of Cases Determined in the Appellate Courts of Illinois 203 (Chicago, Callaghan, 1917), p. 298, available on HathiTrust.↩

See Reports of Cases Determined in the Appellate Courts of Illinois 170 (Chicago, Callaghan, 1912), p. 481, available on HathiTrust.↩

"Chicago People Pay Homage to Emmett Scott," Chicago Defender, May 4, 1918.↩

See Victor Kleber, Selective Service in Illinois, 1940-1947 …, p. 391, available on HathiTrust.↩

Northwestern University Archives, Alumni Biographical Files, School of Law, Series 51/5, Box 3, Class of 1889. Thanks to Kevin Leonard for providing me with scans of this file. Records within it include several past addresses for Simms, including 5712 S. Wabash Ave and 5828 Lafayette Avenue. Braden's address is listed as 3458 South State Street. Another form in the file looks like a circular sent by the Alumni Association that was returned by Simms' granddaughter on February 3, 1952, with this notation: "Atty. Arthur Simms departed this life October 12, 1951. Mrs. J. R. Strong, Granddaughter." Zedrick Braden's son and grandson also went on to law careers and work with the Cook County or American Bar Associations; all three are pictured in an ad in the ABA Journal from the 1980s. Zedrick Braden III continues to practice law in Chicago today and hosts a family photo on his webpage.↩

One of the birth records for junior records his race as "White."↩

Broad Ax, April 16, 1904, p. 1, found on GenealogyBank.↩

In this census, the family is reported as "mulatto," though in the 1900 census (which also lists Neatie as "Anita") they are "black."↩

Another potential marriage record announces his intended marriage to Daisy D. Allen in Chicago.↩

Another potential son, though the names don't line up exactly, was Alexander Simms.↩

William M. Adkins, preumably his son, is the informant for the death certificate.↩

The Defender article mentions the baby's father as Clifford, which may be Malachi's first ame.↩

According to Winona Adkins, his middle name was Persons, and he later became a school principal.↩

According to Winona Adkins, who remembered him as "Uncle Spud," he married a woman named Frankie.↩

The Tuskegee listing of pilots includes a Winston A. Adkins from Chicago. According to Winona Adkins, he did not serve overseas and wanted to fly planes upon returning to civilian life but was unable to; she adds that after he was assigned desk duty as a police officer following a surgery, he returned to school at DePaul to obtain a law degree. She described him as "in love with words" and the trappings of the law which she thinks may have been influenced by his grandfather's example.↩

According to Winona Adkins, Marjorie also attended University of Chicago for a while; her mother was a teacher in Chicago.↩

See the original obituary here.↩

See also the obituary in Chicago Sun-Times, March 5, 2001, p. 53.↩

Her mother Neata died from complications in chilbirth, according to Winona Adkins.↩