Lewis C. Robards was a prominent slave trader in Lexington, Kentucky, in the 1840s and 1850s and featured prominently in the abduction of Henrietta Wood.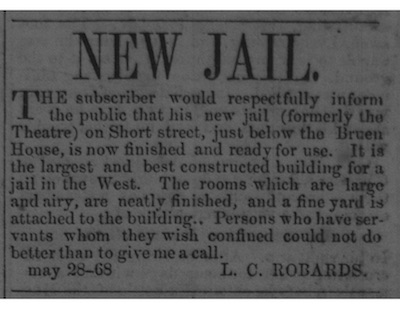 Most historians date the beginnings of Robards' involvement in slave trading to July 1848, when he advertised in the Lexington Observer and Reporter that he was interested in purchasing "merchantable" slaves to sell. At that time he was operating out of the Phoenix Hotel.1 They also note that his business would have been boosted, along with that of other slave traders in Lexington, by the lifting of the non-importation law in the state in 1849.
The Library of Congress has an account book kept by Lewis Robards with pre-printed, personalized forms that he used to record his purchases of enslaved people. That book also contains evidence of business between Robards, Frank Rust, and Willoughby Scott, who were all implicated in the abduction of Henrietta Wood. For example, the book shows that on March 25, 1853, Scott (of Bourbon County) sold Sarah Ann (aged 11 years) and Rosanna or Roxanna (aged 13) to Robards in Fayette County.2
Slave Jails
Robards appears to have operated two jails by 1849:
He leased the jail known as "Pullum's jail" that faced on Broadway near the Bruen House after Pullum announced that he was in ill health.3 There, according to coleman1938, Robards kept slaves "in vermin-infested slave-pens or 'coops' eight feet square, seven feet high, constructed on damp brick floors, with small barred windows near the roof and with heavy, iron-gated doors" (11), perhaps like those seen in this wartime photograph of slave pen. Perhaps this is the "Pullam's slave pen" that Henrietta Wood remembered being returned to after Williams appeared in Lexington to investigate her capture; see the final part of her Bee interview; by then, it may have been turned back over to Pullum.
In 1849, he "leased, as a jail, the old Lexington Theater on Short Street," later buying it, remodeling it, and advertising it as "the largest and best constructed building for a jail in the West."4 This is probably the jail next to which Robards kept the two-story brick house with an office on the ground floor and a second story where, according to Orville Browning's recollections, he kept his "choice stock" of female slaves. See example of an ad for this new jail in Kentucky Statesman, May 28, 1851. Also this deed history of the lot.
In late 1854, seven men escaped from Robards' jail by sawing through an iron bar in a window; three of the men were owned by Washington Bolton of Bolton, Dickens and Company, suggesting that Robards and he may have frequently partnered at this time.
Notes taken by J. Winston Coleman, based on testimony from Rodes Woods:
"During the yrs 1851-1855 many negroes were sent to Lewis Robards jail to be sold for the owner." Sometimes there was a number of negroes in the house for sale belonging to others, to be sold by Robards as agent of the owner. "Regular commission was charged for keeping Negroes & for selling." I think it was pretty generally known that R kept a house for the sale of negroes. R. Woods …
Robards "jail was a common receptacle for slaves." Everyone in the community who had slaves for sale saw fit to send them there & being regularly licensed by the city & kept for the purpose & advertised in the public newspaper as such. Robards "was the general agent jail who had slaves … R. Woods, agt of Robards said:"My instructions from Robards in the summer of 1855 was to buy any negroes I could on time … and negroes so bought to be sold as quickly as possible for cash."5
Illegal Activities
Robards was frequently sued for having knowingly sold "unsound" people to buyers, and a physician he employed in the jail, named Dr. Rodes Woods, sometimes testified in his defense. One of these cases unfolded in July 1853, concerning an enslaved man, "Tom," who was bought and sold to New Orleans despite evidence of illness, including "short hectic coughs."6 The number of these cases leads Coleman to conclude that "Robards was by far the most unscrupulous of all the slave dealers. He often purchased, with the idea of a quick turn-over, slightly diseased negroes, provided their ailment did not appear too evident."7
He was also frequently accused of kidnapping free people and selling them as slaves. His jail was described, according to clark1934, 295, quoting Eloise Conner, as a "rendezvous for a gang of kidnappers that operate along the Ohio River seizing free negroes who live in the extreme southern border of the state of Ohio." One such case involved a five year old girl named Martha, and the case file included a deposition also claiming that Robards' jail was "a rendezvous for a gang of kidnappers and nigger thieves."8
Another involved an 1850 kidnapping of a free woman of color living in Mason County named Arian Belle. In that case, the court records showed that Robards had paid an agent, James McMillen, $600 to kidnap the woman, after which he had sold her to a Louisiana buyer for $850. She was placed on a packet headed south, but the intervention of some white friends stopped the sale.9
See also gudmestad2003, p. 97-100; conner1931, 66-67, for rumors surrounding Robards' selling of free black people and sick slaves.
His frequent appearances in court detailed in conner1931, 62ff: "When he became a party in a lawsuit he appeared in court with perfect ease, with numerous alibies and plenty of evidence."
Beck Robards
Robards insured an enslaved woman named Rebecca about 1847-1860, perhaps the "Beck" that Henrietta Wood identified.