Margaret "Maggie" Chisolm Littlejohn Martin (b. 1837, d. 1879) was the daughter of William Littlejohn and wife, from 1861 until her death, of Robert Campbell Martin, Jr.. This page mostly focuses on her movements after January 1, 1863.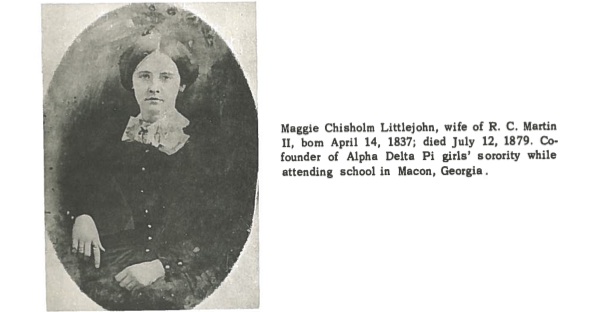 In Mansfield
While her husband was at Vicksburg, Maggie relocated with their son Bobbie to Mansfield, where Robert Campbell Martin, Jr. wrote to her in care of Dr. W. G. Thomas and/or Sallie Thomas. Her first letter in the Martin-Pugh Collection at Nicholls State is dated January 18, 1863, from there (Item 319) and discusses some of the Martin slaves.
In Vicksburg and Mobile
Around April 1863, she began travelling to Vicksburg to visit her husband, accompanied by "Whit" Martin and stopping at cousin William Hyman's house in Alexandria en route. She arrived by April 23. Meanwhile, back in Mansfield, Sallie Thomas reported the arrival of many refugees from the Teche arriving.1 By May 8, 1863, Maggie was in Mobile, having apparently become sick. And at some point during her absence, her son was taken to stay with William Littlejohn and family in Texas.2
In Texas
She returned with her husband to Texas in October after a prisoner exchange after Vicksburg, arriving "near Marshall" on October 28.3 But it looks, from letters, like she may have visited Mansfield again at the beginning of 1864, remaining there until March.
Maggie apparently preferred Mansfield because she could hear from her husband more regularly, but by separating herself from the bulk of the family's enslaved people in Texas, she also incurred costs for washing and other tasks that made her consider returning.4 The issue became moot the next month. Maggie suffered a miscarriage and became very ill, leading her husband to write for William Littlejohn to bring a cart to transport her back to Texas; they arrived in Marshall on March 27 and apparently remained for at least a month.5
For much of early 1864, Maggie's letters to her husband complained of health issues and her experimentation with different patent medicines.