Henrietta Wood recalled being hired out to "Mr. Bishop" (William Bishop) at the Louisville Hotel after she was brought back to Louisville by the Cirode Family.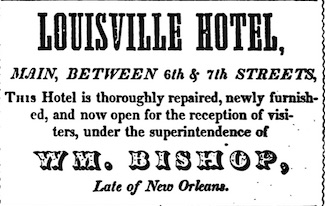 The 1844 Louisville city directory says that:
The Louisville Hotel, On Main, between 6th and 7th, has just passed into the hands of Mr. Bishop, long and favorably known at the South, as an accomplished host. This hotel is a very handsome structure, and its front, on Main street, is adorned with a balcony, which is entered from the parlors and reading-room. The whole interior economy of this noble hotel is good; and it may not be overstepping the bounds of truth, to say that the Louisville Hotel ranks with the first class, as a house, and that its present proprietor, knows precisely how to hold his rank with a numerous circle of friends and patrons (p. 118).
The proprietor is later identified as "William Bishop" on p. 183, and a card for the hotel on p. 165 identifies him as "Late of New Orleans." The Louisville City Directory for 1848, consulted at Filson Historical Society, also lists Wm. Bishop as Louisville Hotel proprietor (p. 21).
See also a print of the hotel.]
Company Records
The below are notes taken from the Louisville Hotel Company records at the Filson Historical Society.
The records confirm that George Keats was an early stockholder in the company.
Book 1 is a cash book, but only appears to contain entries between 1833 and 1835.
Book 2, p. 19: a meeting of the Louisville Hotel Company on February 11, 1845, resolved that a lease for a term of five years (from the close of the present year) be given to "Wm. Bishop" to run the hotel (he appears to already be running it, and is listed as the proprietor in the 1844 city directory)
Book 2, p. 20: Wm. Bishop elected a director of the company.
Book 2, p. 23: Discusses lease of Basement Stores in the hotel building
Book 2, p. 27: By January 1851, Bishop's lease of the hotel has ended.
Book 3 is transcription of a long court case involving conflict among the stockholders.