A slave market in Natchez, Mississippi, known as the second largest in the 19th century South. It was outside of the city center because of concerns among Natchez elite about activities of traders within the city limits, especially following scandal involving Issac Franklin. (See gudmestad2003, p. 93ff.)
Lexington slave traders Griffin and Pullum had a stand there. Perhaps this is where Gerard Brandon purchased Henrietta Wood? One of their ads mentioning the stand made it into Harriet Beecher Stowe's key to Uncle Tom's Cabin.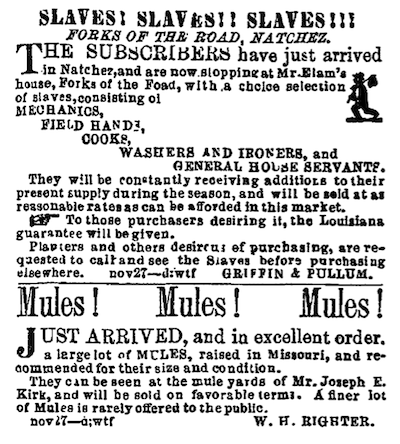 New England school teacher James Ingraham made an early report of the market in his 1835 travel narrative, though it was shot through with his commentary on the inferiority of people of African descent and portrayed slaves at the market as happy to be there.1
According to coleman1938, Hughes and Downing and Griffin and Pullum were all operating at Forks of the Road by 1843-1844.
For more on the market from quick Google search:
---
James Ingraham, The Southwest by a Yankee (1835), vol. 2, Chapter 39.↩